Canadian citizens must obtain a visa or eTA – Electronic Travel Authority – in order to visit Australia. It is an electronic document that can be used for short-term visits related to travel or business purposes. What is more, eTA to Australia is a multiple-entry travel authorization that's issued for one year and allows its holders to take on numerous trips to Australia, each one up to 3 months.
eTA Australia was introduced to help foreign travelers receive their documents quickly through an entirely online application process. All Canadian citizens need to apply for the Australian eTA. To do so, they must have a valid Canadian passport that won't expire for the next six months from the planned date of entering Australia.
Visa is a document that allows you to stay in Australia depending on your travel purpose. You can obtain it online or in embassy/consulate and it is generally required to enter Australia.
You don't need to print your visa, however, it is advisable. The processed document will be sent to your email inbox in PDF form after your application approval.
Content:
How to apply for an Australian visa for Canadians online?
Online eTA application is a very convenient option when you seek to travel to Australia as a Canadian citizen because you don't need to visit the embassy or consulate. The process is handled entirely online.
To apply for the Australian eTA online, prepare your Canadian passport, check its validity period, and complete the online application process by providing the required data in the application form. Then, cover the eTA fee, wait for the approval, and check your email inbox.
CLICK TO APPLY FOR AN AUSTRALIAN VISA ONLINE
Note: It is advisable to be careful when entering information into the application form. Any mistakes in the provided data may result in delays or issues with eTA approval.
Fill in the Application Form – Step by Step
To fill in the application form for the Australian eTA online, make sure you are outside of Australia and prepare your valid passport, credit card, and email address.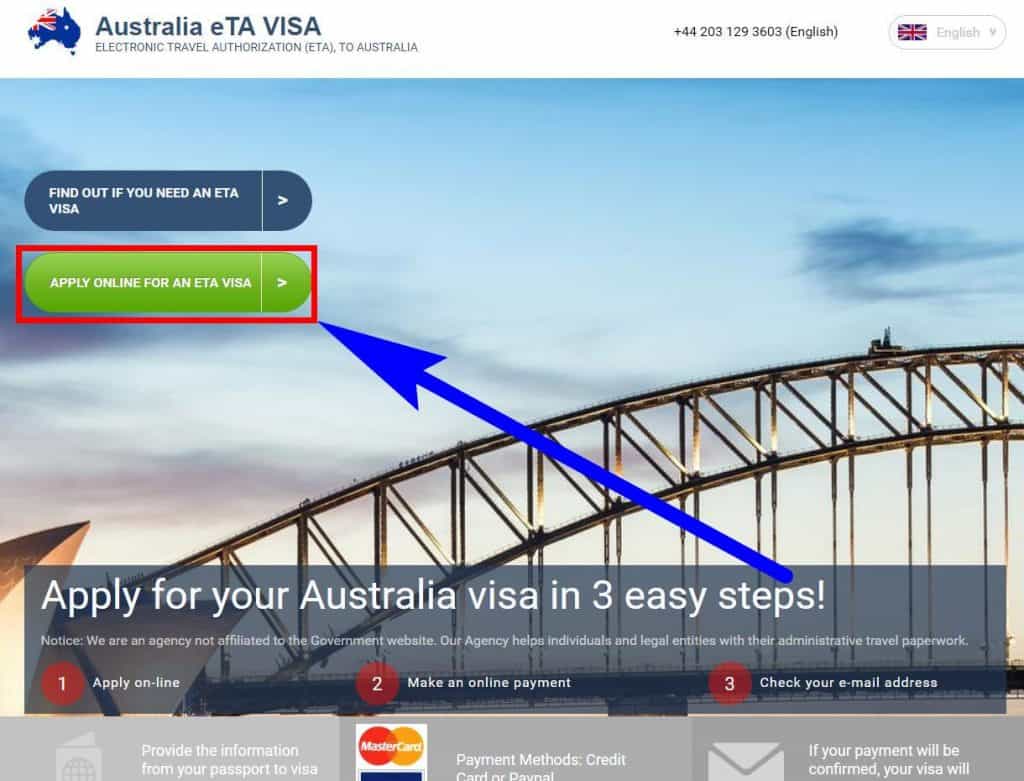 Step 2: Choose your preferred eTA type, tourist or business, and select Canada as your country of birth.

Step 3: Fill out your personal information and passport details. Make sure all the details provided in the application are the same as they are in your passport.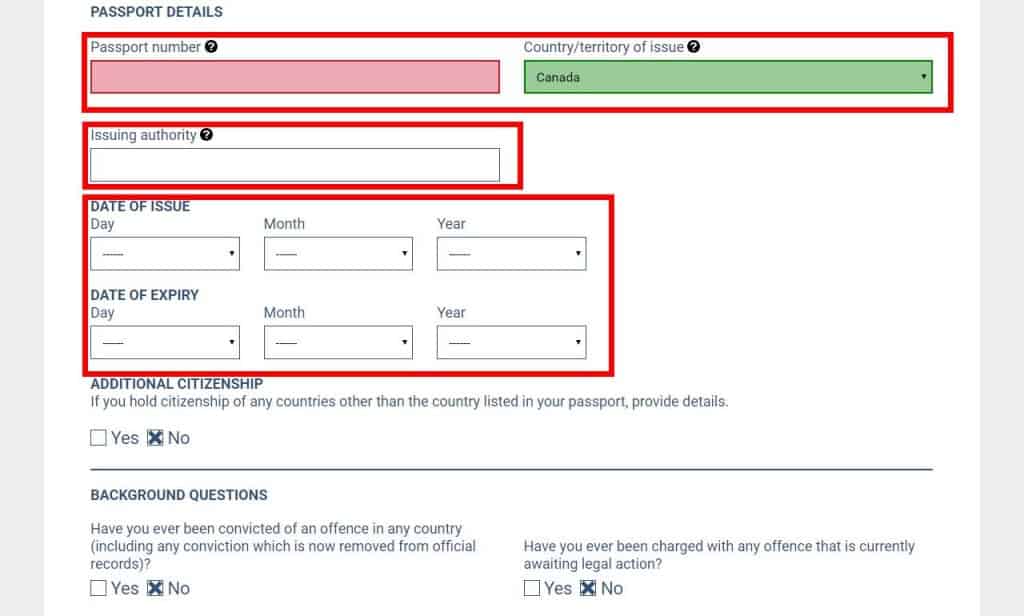 Step 4: Provide your address and contact details.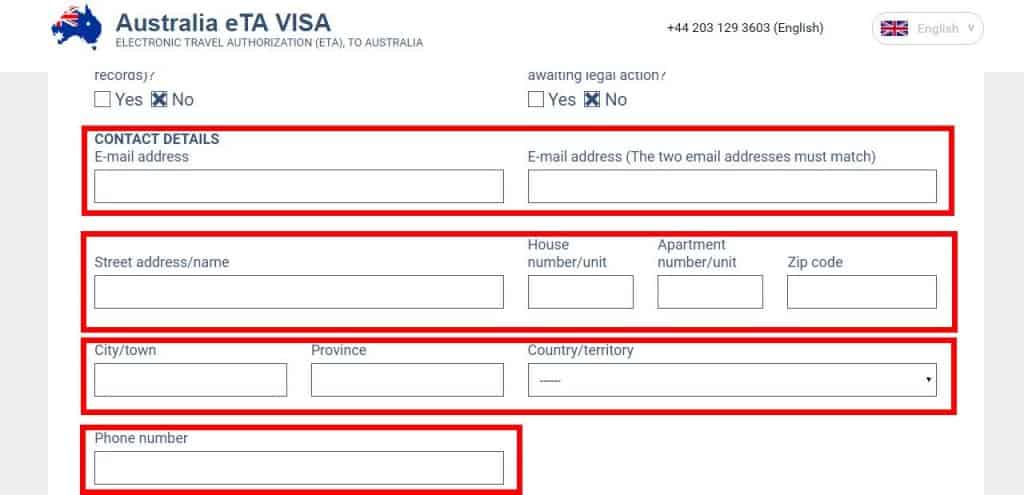 Step 5: Review your details and edit if there are any errors.
Step 6: Choose your payment method, accept the terms and conditions and click Apply.


If you do everything, you will get a confirmation email announcing that the application process is finished.
APPLY ONLINE FOR AN ETA VISA
CLICK TO APPLY FOR THE AUSTRALIAN VISA ONLINE
Payment method
The service charge for an eTA when applying through etaaustraliaonline.com is 49 EUR. It covers the processing expense and the additional services of checking and confirming your details, so you can be sure that everything is alright.
The Australian Department of Immigration and Border Protection accepts payment by JCB, Diners Club, American Express, Visa, or MasterCard.
.


How will you get the Australian ETA visa?
Once your application has been approved, the Australian Electronic Travel Authority will link directly to your passport number. There's no need to print the approved eTA out, simply show your valid Canadian passport upon arrival in Australia. In case of e-Visa, you will receive it in PDF form via email.
Requirements for an Australian visa for Canadian citizens
The requirements for an Australian visa for Canadian citizens are quite simple:
You must have a valid passport

Your passport should have at least 6 months of validity when you apply

You must not have any criminal records, including a drink-driving conviction, for more than 12 months in total, whether you served the sentences or not.
The requirements are the same regardless of what is the reason for your trip to Australia (travel or business).
Once you have been approved for the eTA, you can visit Australia several times. You don't have to get new approval every time you plan to visit, however, each visit should be no longer than 90 days.
The eTA stays valid for a year so visitors can travel to Australia multiple times during this period.
However, if your passport becomes invalid in less than a year, your eTA also will expire. In this case, you will have to renew your Canadian passport.
APPLY ONLINE FOR AN ETA VISA
CLICK TO APPLY FOR AN AUSTRALIAN VISA ONLINE
About Australian visa for Canadians – eTA for Canadian Citizens
You can apply for the visa through two sources – going to the nearest embassy or applying for a visa online. The online application process takes less time than the other one so it is a very convenient option.
The eTA is an Electronic Travel Authorization and the visa is an official document that enables you to stay in a foreign country. eTA will be electronically linked to your Canadian passport.
Note: Australian visa for Canadian passport holders can be obtained from this website – eTA Australia Online.
First introduced in 1996, an eTA or Electronic Travel Authority provides official authorization to enter and travel to Australia by electronically linking to a passport. All Canadian citizens are required to apply for an eTA for short-term stays for business activities or tourism.
Reasons for Traveling to Australia
A significant number of Canadians travel to Australia for tourism or business purposes every year.
No matter what is the reason, you must have the eTA approval or visa to visit Australia as Canadian citizen.
Your passport should be valid for the duration of your intend stay in Australia. If you have a valid Canadian passport and an eTA, you will get into Australia without any trouble.
The only effort one has to make is getting the eTA approval. As we have already discussed earlier in this article, you can save much time by applying online rather than going to a local immigration office.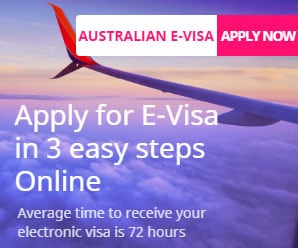 Conditions of Australian eTA for Canadians
It will take more time to approve your eTA in case you have made an error providing the passport information.
Before you apply, check if your passport is valid and if you entered correct details.
Your eTA or Australian visa for Canadian will be valid as long as your passport is valid too. Typically, a single eTA approval can last a year (but not in case when your passport expires before that).
It is possible that your eTA gets rejected. In such a situation, you can get a refund.
On the other hand, it is also possible that you may want to cancel the eTA process after you have submitted the application and payment. It means that your approval is under process. Cancellation during this time may require you to pay the fee.
Conclusion
Online travel services make it much easier to apply for a visa or ETA to Australia from Canada. You no longer have to go through the bureaucratic process and wait a day or longer to get the approval.
For more detailed information or any questions that you may have, please contact us