Now it is possible for citizens of Island to apply for an Australian visa online. It is a very convenient option and you don't need to visit embassy or consulate to obtain it. You can also decide to get a regular visa, but in this case you need to take into consideration longer waiting time. Remember that as an Icelandic citizen you need to have a visa to travel to Australia.
Content:
Electronic Travel Authority
Travelers from Iceland can enter Australia on an eTA visa. If the eTA is granted, the citizens of Iceland can stay in Australia for up to three months for tourism or business purposes. The electronic Australian visa application is valid for 12 months, however your passport can't be expired during that time.
eTA enables a citizen from Iceland to be able to travel to Australia a numerous times within the twelve months period but they are only allowed to stay there for a maximum of three months each time they travel to the country. Australian eTA and eVisitor visas link to your passport that is why it is so important to have the valid document.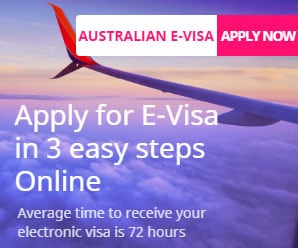 Work Visa
We can distinguish between many types when it comes to the Australian work visa. It could be divided according to the period of stay or purpose, such as Visas for innovation, Short stay work visas, and Temporary work visas.
You can obtain a Visa for innovation through Global Talent Visa program, Global Talent Employer Sponsored program, or The Global Australia Taskforce. All of the programs are designed to attract skillful and talented individuals to the country.
Among Short stay work visas are Working Holiday Maker visas, Pacific and seasonal work visas, and Temporary activity and specialist visas. They attract specialized workers for the specific time period.
Regional visas, Skilled migration visas, Business investment visas, and Global Talent visas are Temporary work visas. You can pick the one that is suitable for you depending on your situation.
APPLY ONLINE FOR AN ETA VISA
CLICK TO APPLY FOR AUSTRALIAN VISA ONLINE
Visitor Visa
You can obtain Visitor visa if you want to enter Australia for tourism, business, medical treatment, or to visit family. There are many types of this visa, so you can choose the one suitable for you. It can be granted for three, six, or twelve months. You need to be a genuine visitor and have enough money to support your stay to be eligible for this visa. Besides, you can get eVisitor option, so you don't need to visit the embassy or consulate. It is designed for all European countries, so citizens from Iceland can apply for it as well.
Biosecurity Policies
Citizens from Iceland should know that when they travel to Australia, they should expect a strict biosecurity policies that are out in place to protect the animal, humans and plant health. The safety is very important and before a guests arrive in Australia, they will be given an Incoming Passenger Card.
You should notify authorities if you are carrying on yourself or in your luggage any items that would be considered a biosecurity risky. These would include any animal products, certain food, plant materials, traditional herbs, medicine, and some pieces of wood.
You must declare possession of these items as misleading or false in the declaration, otherwise it could be treated as a very serious offense in Australia.
APPLY ONLINE FOR AN ETA VISA
CLICK TO APPLY FOR AUSTRALIAN VISA ONLINE
Expired Visas
Long-term visitors should make sure that they do not stay in Australia past the validity period on their visas. When they overstay in the country, it is considered as a serious offense by the Australian Border Force. This may cause some difficulties while entering Australia in the future.
If you find that you have to stay longer than a period specified on the visa or you find out that your visa has already expired, you should visit the nearest Department of Immigration and Border Protection office.
How to apply for a visa and what are general requirements
If you want to apply for a visa to Australia, in case of eTA and eVisitor you can do it online without visiting the embassy or consulate. The process is very easy as you need to fill out the application form, pay the necessary fee, and wait for the confirmation. Then you will receive your visa in PDF form. When it comes to eTA, it is automatically linked to your passport number.
Generally, you need to prepare a valid passport and complete an application form. Also, you can't have tuberculosis and be criminally convicted. If you meet all the requirements, you can receive the document that will enable you to stay in Australia.