The Australian Government has introduced a new electronic visa system, which makes applying for a visa easier and faster than ever before.
Australian eVisitor and ETA  are electronic travel authorizations that allow eligible citizens of certain countries, including Denmark, to visit Australia for tourism or business purposes for up to three months.
The Australian eVisitor for Danish citizens can be applied for and obtained through the online form on the website. The application process is straightforward and takes only a few minutes to complete. After the application has been submitted, an applicant will be sent an email confirmation with an approved Australian ETA eVisa.
The Australian eVisitor for Danish citizens is valid for 12 months from the date of issue and allows multiple entries into Australia within this period. However, its holders cannot have a stay exceeding 90 days. Instead, they need to leave Australia for at least 3 days. After that, they can come back for another 90-day visit.
There are various requirements that an applicant has to meet before applying for electronic travel authorization online.
To begin with, ensure that you are tuberculosis-free.
Secondly, you shouldn't be criminally convicted with a sentence of 1 year or more. The next thing you should know is how to apply for a visa to Australia – you can do this by reading our article. Use the Australian visa application checker to confirm your eligibility to apply.
A separate application must be made for each person, children included.
Content:

What are the requirements for an Australian ETA?
Making an online application is more convenient than going to an Australian embassy in person. But this doesn't mean that you won't be required to fulfill some conditions and provide some information. It is usually best to collect the necessary documents before proceeding to fill out the form.
APPLY ONLINE FOR AN ETA VISA
CLICK TO APPLY FOR AUSTRALIAN VISA ONLINE
Required documentation
Danish citizens who travel internationally are required to have a passport, and Australia is also no exception. All that is required of you is to just visit the issuing authority of your country. Your passport is supposed to be valid for a minimum of 3 months from the date of entry in Australia.
Technical requirements
Prepare a working device that you are going to apply with. It could be a phone, laptop, PC, or tablet with an internet connection.
You are also required to make payment for Australian visa application services before you complete your application. The ETA visa for Australia accepts various forms of payment, so choose the most convenient one for you, either a credit or debit card. Additionally, we also accept PayPal payments.
The active email address is necessary for sending the confirmation and as one of the communication sources.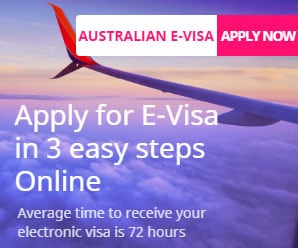 When you are done with the requirement above, then you can comfortably proceed to make an application online.
Application process and permitted stay for Danish citizens
How to apply
Apart from fulfilling the conditions listed above, you should follow these steps to apply:
Fill out the form by answering a few questions. They are usually very simple, so you don't have to worry. Simply indicate your reason for traveling and give honest answers about your personal and passport details.
Attach the current passport.
Check the form for mistakes or typos.
Make the payment via the preferred method of online payment.
Wait for the confirmation on the email address. The approved ETA comes as a PDF document.
Permitted stay
The Australian ETA visa is issued for one year (12 months). During this period, Danish nationals are able to visit Australia as often as they want to, but the interval between the visits must be no less than 3 days outside the country.
Each trip mustn't take longer than 3 months (90 days). Don't violate this rule to avoid legal issues and fines.
Conclusion
It is advisable not to book flights or even make a commitment to travel unless you have a visa to allow you to travel to Australia. The processing time is at the Australian Immigration Service's discretion.