The Australian Government introduced an electronic visa system that significantly improves the visa application process. Depending on the nationality, eligible travelers can apply either for the eTA or eVisitor.
UK citizens are eligible for eVisitor to Australia and can obtain it by simply submitting an online application. The entire process takes only a couple of minutes and requires no visits to Australian Embassy. Applicants only need to have a working electronic device, stable Internet connection, and pay the fee, which is 49 Euro.
The approved eVisitor will be directly sent to the applicant's email inbox once it is approved. Since eVisitor is matched with the traveler's passport, there is no need to print it out.
eVisitor allows entering Australia for tourism, business, or transit. The electronic permit remains valid for 12 months, while its holder can enter Australia numerous times staying for up to 3 months each time.
APPLY ONLINE FOR AN ETA VISA
CLICK TO APPLY FOR AUSTRALIAN VISA ONLINE
Content:
Australian eVisitor visa for UK Citizens
The UK citizens who plan to visit Australia should know the most essential characteristics of an Australian electronic visa:
Australia offers two types of electronic visas, but only eVisitor is the type of eVisa that UK citizens can apply for;
The online application for an eVisitor visa will take more or less 15 minutes;
The service fee charged for the Australia e-Visa processing is 49 Euro;
eVisitor is issued for 1 year;
As a multiple-entry visa, eVisitor allows numerous entries to the Australian territory (every stay can last up to 90 days);
Online application for Australia eVisa should be submitted at least 3 business days before the planned trip.
APPLY ONLINE FOR AN ETA VISA
CLICK TO APPLY FOR AUSTRALIAN VISA ONLINE
How to apply for an Australian visa for UK citizens online?
The application process for an electronic visa to Australia is a very simple and intuitive. Applicants can complete it within minutes from the comfort of their homes following only a few steps.
The process of application:
1. First of all, click on the "Apply for an ETA Visa" button.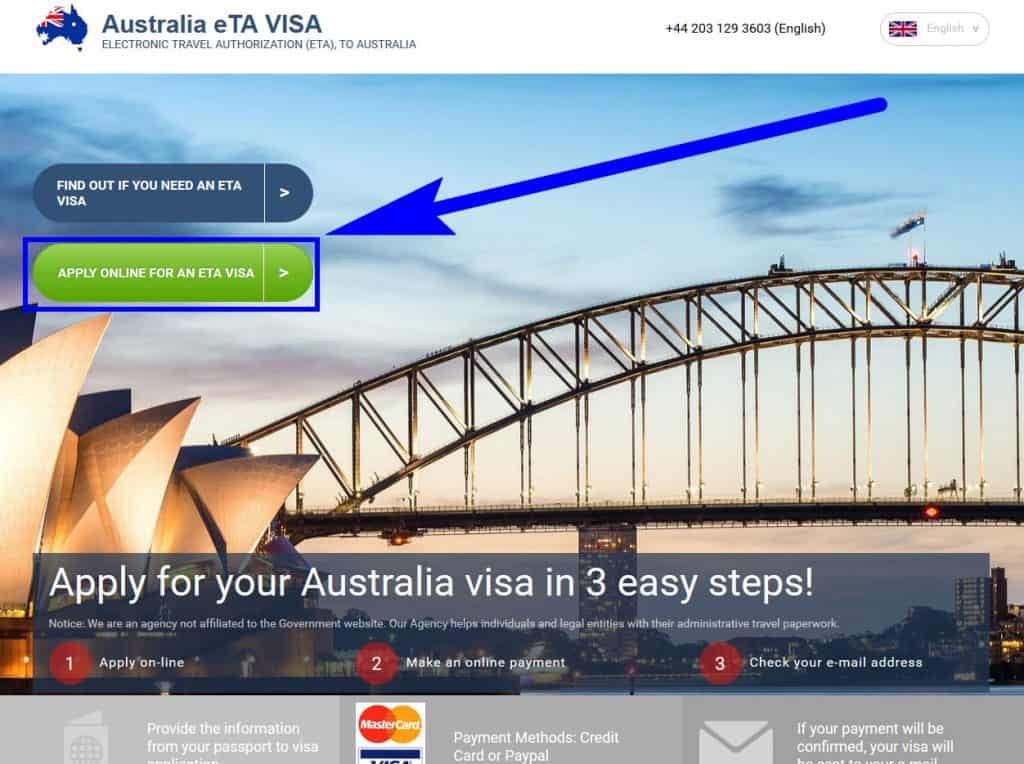 Next, you have to provide all personal information by filling out all empty boxes.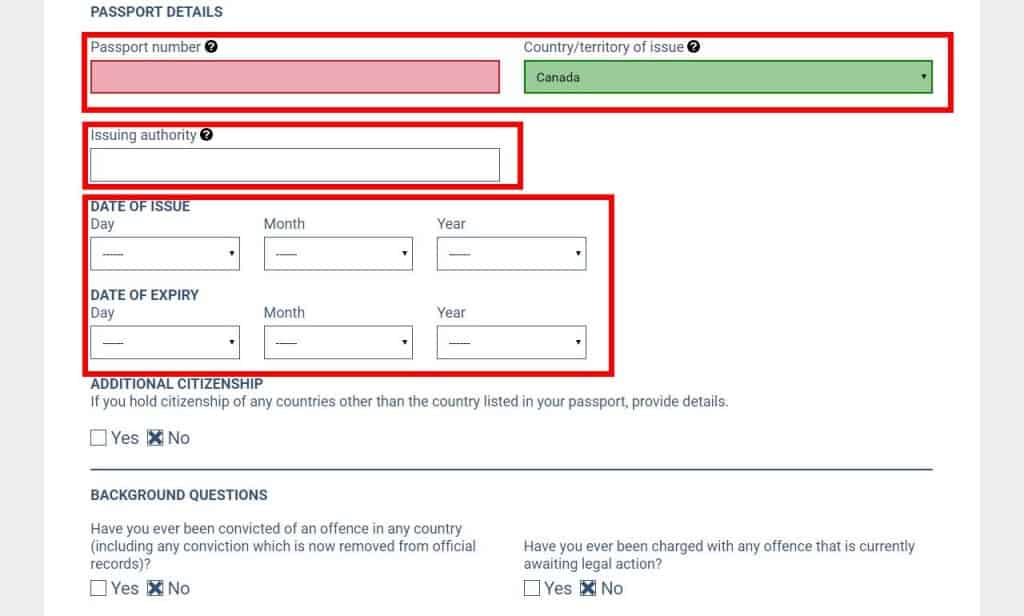 Double-check if all of your details are error-free and go to the next step.
2. Use one of many available methods of online payment and cover the processing fee, which is 49 Euro.


After making the payment for the service fee, your online application will be then revised by our eVisa experts and sent to the Australian Government for final approval.
3. You need to refresh your email inbox and receive the confirmation number that will be necessary to make application progress. Once approved, an eVisitor visa will be delivered to your email in a PDF format.
Required documents to apply for an Australian visa from the UK
The only document required to obtain an eVisitor visa to Australia from the UK is a valid passport. What is most essential, the passport must remain valid for at least six months from the date of your intended travel to Australia.
Since the electronic visa is directly linked to the traveler's passport, the passport should also be valid for the entire duration of your planned stay in Australia. The moment your passport expires, your visa becomes invalid too.
In the second step of your online application, you will need to cover the service fee. You can do it using e.g. the Master Card, PayPal, or pre-paid credit cards. Once your payment will be approved, you will receive a confirmation number in your email inbox. This number is essential to make a progress in processing the application.
Should you encounter some problems with your application, please contact our support team.
The UK citizens who wish to apply online for a visa to Australia must meet the following basic requirements. They need to have:
a valid passport (not expiring for at least 6 months);
a working electronic device (e.g. tablet, smartphone, laptop) connected to the Internet;
an active email address (to receive the eVisa approval);
a valid means of online payment (necessary to cover the service fee).
APPLY ONLINE FOR AN ETA VISA
CLICK TO APPLY FOR AUSTRALIAN VISA ONLINE
Reasons for Traveling to Australia
UK citizens who are holders of eVisitor visa to Australia may use it for the following purposes:
tourism: visiting family, friends, spending holidays, exploring tourist attractions, as well as any other leisure activities.
business: taking part in different business-related activities, including conferences, training, workshops, visiting Australian business partners, negotiating contracts, future cooperation plans, etc.
transit: transiting through Australia (no matter the duration) requires a traveler to obtain an Australian eVisa too.
Get your Australian eVisa in a few simple steps! Explore the country's main tourist attractions, attend business negotiations, or make a transit stop on the way to another travel destination!
APPLY ONLINE FOR AN ETA VISA
CLICK TO APPLY FOR AUSTRALIAN VISA ONLINE
Please remember to apply online for your Australian eVisa at least 3 business days in advance to avoid unnecessary delays and receive your eVisa on time!
Conditions of Australian eVisa
Once your eVisa has been approved, it remains valid for 12 months (1 year). However, when the passport linked to the Australian eVisa expires, the electronic visa becomes expired too.
As long as the Australian eVisitor is still valid, its holder can visit Australia several times without having to get the new eVisa approved every time.
When applying for an Australian eVisa for UK citizens online, it is important to ensure that the provided information is correct. Once you have filled out the application form, you should double-check whether the provided information is free of errors.
Please do take your time to go through each provided detail and ensure that it is correct. Only then, you should proceed with paying the fee using one of the available payment methods like your credit card or PayPal.
Note: Be careful about entering the correct information required online.
You may be eligible for a refund of your money in case of failure in processing your application in accordance with our Terms of Service.
You no longer need to bother yourself with visits to the Australian Embassy and spend long hours arranging all visa formalities. Apply online for an Australian eVisa in a few easy steps and save plenty of your time and energy!
APPLY ONLINE FOR AN ETA VISA
CLICK TO APPLY FOR AUSTRALIAN VISA ONLINE