Australian Visa for Sammarinese citizens is required, whether such citizens are planning to visit for work, vacation, etc

Content:
Required Documents
Although an online application doesn't require all the documents for a visa, we recommend that you prepare all the required documents, the same way you would if you were going to apply physically.
APPLY ONLINE FOR AN ETA VISA
CLICK TO APPLY FOR AUSTRALIAN VISA ONLINE
Here are the documents you will need if you apply for an Australian visa online:
Valid Passport – As a Sammarinese citizen, if you want to travel internationally, you must have a valid passport. The validation of your passport must be a minimum of 90 days from the date of arrival in Australia.
Payment Method – When you fill in Australian visas online application, you must pay for the online services before you submit your application. That can be done with debit or credit cards.
NOTE: Along with these requirements, there are questions you need to answer. For example, the reason for visiting Australia. There can be different types of visa. Each type among the general requirements has other specific requirements you must follow.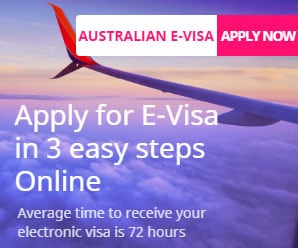 Common mistakes
As a Sammarinese citizen, your application for an Australian visa can be rejected. That may happen due to some mistakes you can probably make while applying. Some of these mistakes are highlighted below;
Submitting an Incomplete Application
The information you submit when you're applying for Australia visa must be complete and relevant. There is a huge risk of rejection if the information you provide is not enough to prove claims made in the application.
You have to make sure you have a supportive claim for each document you submit.
For example, if you wrote that you have completed a course in the English language, you must back up that information with a diploma or certificate from the educational institution.
Committing Fraud
If you lie in your application form, you are 5 steps ahead in getting rejected. That is quite logical, right? A part of getting rejected, you can be charged with visa fraud based on the wrong information you provided in your application and that can also bring you to a prohibition from entering Australia.
The Inability Of Meeting The Law Requirements
This is not so much defined as a mistake, but it can lead to rejection of your visa application. The citizens of San Marino that have been convicted criminally with a sentence of 1 year or more, can't apply for an Australian visa.
Almost 2,000 citizens were rejected for a visa because they couldn't prove their identity and failing police checks.
APPLY ONLINE FOR AN ETA VISA
CLICK TO APPLY FOR AUSTRALIAN VISA ONLINE
How long does it take for an Australian Visa?
The most common question from people who apply for a visa is "How much time would it take me to get a visa"? Well, if your application for an Australian visa was approved, you can get your visa in 4 to 6 weeks, or if you have an ETA passport, you can get your visa from 0 to 5 days maximum.
You must be aware that it can cost you more if you want to get your visa for a shorter time.