An Australian visa for Sammarinese citizens can be obtained online for the purpose of business, tourism, or transit.
There are two types of electronic visas to Australia – ETA and eVisitor Visa. The eVisitor Visa is dedicated to European nationals, including citizens of San Marino.
Keep on reading and find out more about Australian visas and how you can get yours from San Marino without visiting an embassy or consulate.

Content:
Requirements for Australian visa online application
There are basic requirements that one must meet to complete an online application for an Australian visa. When it comes to the required documents, a national of San Marino should only have a passport that will remain valid for a minimum period of 6 months. This period should be counted from the date of planned arrival in Australia.
Please also bear in mind that the approved Australian visa is directly matched with the passport used in the online application. Should any changes to the passport data are made, or your passport is lost or stolen, your visa will automatically expire.
APPLY ONLINE FOR AN ETA VISA
CLICK TO APPLY FOR AUSTRALIAN VISA ONLINE
Additionally, make sure that you have access to the following:
Valid Payment Method – When you fill in the Australian visa online application, you will be asked to pay for the online services before you submit your application. That can be simply done with debit or credit cards or any other method of online payment.
Active Email Address – In order to receive the approved visa, you must be an active user of an email address. The document will be sent to you via email as soon as the Australian Government approves it. Make sure to refresh your email inbox and download the PDF file with your electronic visa.
Working Electronic Device – To successfully submit the online form, you also need to have access to any Internet-connected electronic device, e.g., smartphone, tablet, laptop, or PC.
NOTE: Along with these requirements, there are questions you need to answer. For example, the reason for visiting Australia or questions related to your health or criminal record.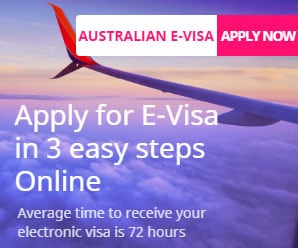 Common mistakes to avoid when applying online
Your application for an Australian visa can be rejected, or the processing time may be extended. That may happen due to some mistakes you can probably make while applying. Some of these mistakes are highlighted below.
Submitting an Incomplete Application
The information you submit when you're applying for an Australia visa must be complete and relevant. There is a huge risk of rejection if the information you provide is incomplete or irrelevant.
Please also note that any single typo, mistake, or untrue piece of information may result in extended waiting time for your application to be processed. Always remember to double-check all the provided information so that you will maximize your chances for immediate approval.
Providing untrue information
If you do not provide true information in your application form, you are one step ahead of getting rejected. That is quite logical, right? Apart from getting a visa rejection, you can also be prohibited from entering Australia in the future.
The Inability Of Meeting The Law Requirements
This is not so much defined as a mistake, but it can lead to the rejection of your visa application.
The citizens of San Marino that have been convicted criminally with a sentence of 1 year or more, can't apply for an Australian visa.
APPLY ONLINE FOR AN ETA VISA
CLICK TO APPLY FOR AUSTRALIAN VISA ONLINE
How long does it take for an Australian Visa?
The most common question from people who apply for a visa is, "How much time would it take me to get a visa"?
The processing time for an Australian visa online is an individual matter and is determined by various factors.
Please remember that submitting your application in close proximity to bank holidays may result in extended processing time.