The Australian visa policy states that all citizens from all over the world must obtain a visa to enter Australia and stay there for a certain period of time.
Although US citizens do not need to apply for a regular visa to visit Australia for short-term periods if traveling for tourism or business purposes, they still need to apply for the Australian ETA (Electronic Travel Authority).
Read on for more information about ETA and find out how you can obtain yours from the United States.
APPLY ONLINE FOR AN ETA VISA
CLICK TO APPLY FOR AUSTRALIAN VISA ONLINE
Content:
Electronic Travel Authority for US citizens
If any United States citizen wishes to stay in Australia without a permanent stay visa, then they should apply for an ETA visa for Australia.


The Australian Electronic Travel Authority for US citizens is issued as a multiple-entry permit remaining valid for 365 days.
A traveler from the US holding a valid ETA can enter Australia numerous times and stay there for up to 90 days each time.
The Australian Electronic Travel Authority serves the purpose of tourism or business, which means that it is possible to use it for all kinds of leisure activities, e.g., holidays, sightseeing, family/friend reunions, etc.
Moreover, ETA allows its holder to handle various business affairs, such as participating in business meetings and conferences, negotiating contracts, looking for potential business opportunities, and so on.
APPLY ONLINE FOR AN ETA VISA
CLICK TO APPLY FOR AUSTRALIAN VISA ONLINE
Electronic Travel Visa Eligibility Requirements
American citizens can apply for an ETA as one of 8 eligible countries. In order to apply for ETA, their traveling purpose must be either tourism or business.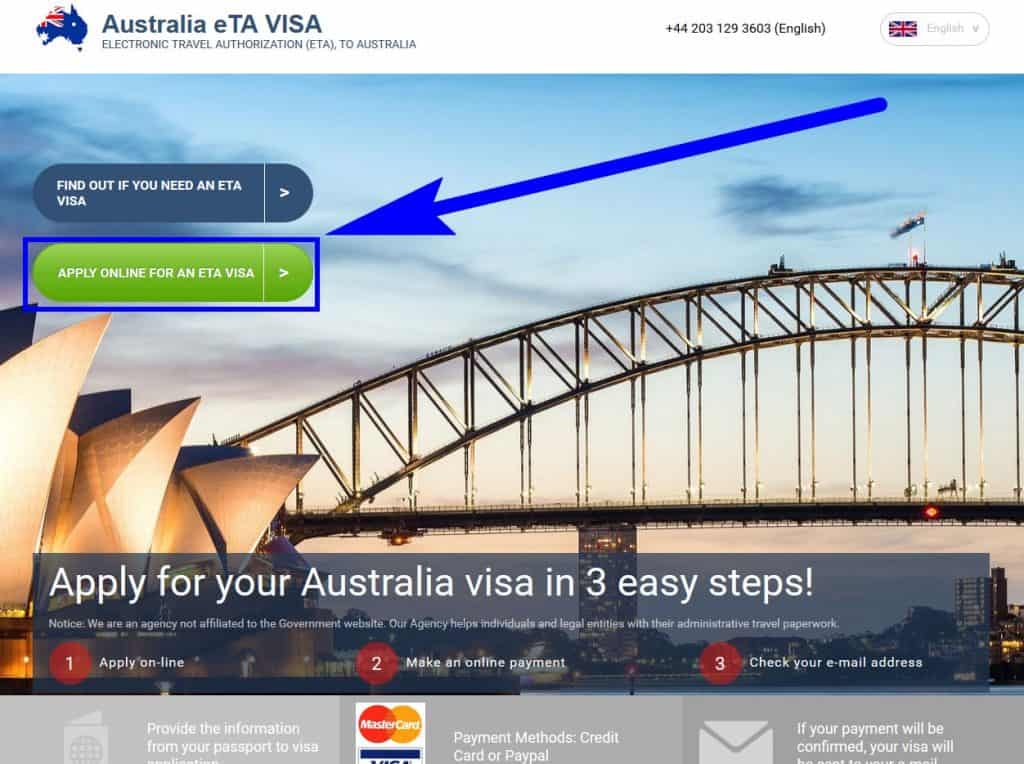 To qualify for the Electronic Travel Authority, an applicant from the US must:
hold a valid passport that will remain valid for more than 3 months from the date beyond the intended arrival in Australia
not be ill with any highly-infectious disease that could pose a danger to the Australian citizens
not require costly medical or community services or medical care that could deny access to the same to any citizen or permanent resident of Australia
meet certain character requirements, including having a clear criminal record (not having a 12-month jail time record)
Additionally, it may be necessary to undergo a medical examination to comply with the Australian health requirements or provide good conduct proof, for example, a police certificate.
Failure to meet any of the aforementioned requirements may result in your visa application being rejected.


How to obtain an Australian visa from the US?
A passport holder from the US can apply for the Australian ETA online after meeting all eligibility requirements.
To submit an online ETA application, you should visit the Australian official government website. You will need to provide some personal and passport information and provide certain supporting documents.
Remember that it is necessary to obtain an Australian visa before entering Australia. It is impossible to get a visa upon arrival in Australia.
Apply for ETA and travel to Australia multiple times throughout its 1-year validity period. Your single stay in the country can be as long as 3 months!
APPLY ONLINE FOR AN ETA VISA
CLICK TO APPLY FOR AUSTRALIAN VISA ONLINE