Australia is a country that gladly welcomes all European Union citizens that wish to visit the country for tourism or business purposes. What is more, there is only one requirement to do so – obtaining an Australian eTA.
The eTA acronym describes electronic travel authorization, which can be easily issued online. This document is also known as the eVisitor Visa or the Subclass 651 Visa. In order to obtain the eTA travel permit, you do not need to visit the Embassy or the Consulate – the whole procedure may be done from your home.
Australia is an ideal destination for many enterprising business persons and travelers.

The Australian eTA for Spanish citizens stays valid for 12 months, allowing multiple entries to the country. However, each visit cannot exceed 3 months. Remember that overstaying is strictly forbidden and may result in getting a fine.
Content:
If you are a Spanish who is planning to visit Australia and wonders how to acquire a visa, then this article is definitely meant for you.
APPLY ONLINE FOR AN ETA VISA
CLICK TO APPLY FOR AUSTRALIAN VISA ONLINE
eTA Requirements for Spanish Citizens
The application process for the Australian eTA electronic visa is straightforward and intuitive. But, before you start the registration, prepare all the required documents.
Valid Passport – The passport you are going to use during the eTA application should be valid for at least 6 months from the registration date. Moreover, if you are afraid your passport may expire during your stay in Australia, it is advised to issue a new document. An expired passport renders the electronic visa invalid as well.
Online Payment – The eTA electronic visa to Australia is complimentary, but you are obliged to pay for the visa processing. Make the payment of 49 EUR via debit card, credit card, or PayPal.
E-mail Address – You should ensure you have access to your e-mail address since the visa approval will be sent to your inbox in PDF form.
Health Certificate – The Australian government requires you to prove you are in good health and do not suffer from tuberculosis. You may enter the Australian borders only if you have a valid medical certificate.
Background Check – The officers working at the Australian ports of entry must ensure that travelers visiting Australia are not a threat. Therefore, to enter the country, you must have a clean criminal record.
You do not need to obtain the printed version of your eTA electronic visa approval. The entry permit is strictly connected to your passport.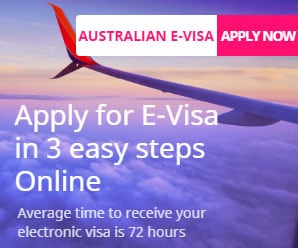 eTA Application Process
The application for the eTA permit is effortless and intuitive. The registration should not take more than 15 minutes of your time, and the process may be conducted electronically.
Complete the visa application form. You will be asked to fill in the questionnaire with your personal information: name, gender, date of birth, and country of origin. Your answers should be truthful.
Check the form for spelling mistakes. While writing down a lot of information, it is easy to make mistakes. During the visa application, even the slightest error may result in being denied entry to Australia. Therefore, it is advised to make sure all the provided information is correct.
Pay the processing fee. Although the eTA to Australia is free, you are still obliged to pay for the registration. Finalize the process with a selected online payment method and wait for visa approval.
During the application process, you may be asked to state the purpose of your visit to Australia. You are allowed to travel to this country for reasons including meeting with family and friends, participating in sightseeing trips, or participating in business events. In general, the electronic visa to Australia is issued for tourism and business purposes.
eTA Processing
The electronic visa application process should not take more than 15 minutes of your time. However, you must be patient while waiting for your visa approval. The Australian eTA processing is usually around a few days, but the waiting time may be affected by the internal processing conducted by the Australian officers.
APPLY ONLINE FOR AN ETA VISA
CLICK TO APPLY FOR AUSTRALIAN VISA ONLINE
As soon as your visa to Australia is approved, you will receive it at your e-mail address.
Validity and Extension
The eTA electronic visa allows Spanish citizens multiple entries to Australia, each visit lasting up to 3 months. The permit stays valid for 12 months.
Currently, it is not possible to extend the validity period of your Australian eTA. If you wish to spend more than a year there, you must apply for a new permit.