The upgrade of the paper system to the paperless online application has significantly eased the duration of the processing and eliminated visa hassle. Now applicants don't have to stay in lengthy queues, and deal with paperwork, as all steps can be completed online.
The Australian government enabled San Marino citizens to apply for the eVisitor over the internet. The application process is simple, as all you need to do is to fill the form, upload supporting documents, and pay the fee.
You don't even need to attend the embassy to collect your eVisa, as it is sent directly to your email address. With an eVisitor, you can come to Australia for tourist and business purposes. 
The Australian eTA allows San Marino nationals to travel to Australia numerous times, with each visit not exceeding 90 days. The main thing is that the eVisa must stay valid during all your visits to Australia. 
Note that your passport must be effective as well. Any changes to the data, or passport expiration, make the eVisa ineffective.
Content:

The e-Visa types to apply online
Tourist eVisa to Australia
The aim of a tourist visa:
Visiting and having a good time with friends and family members who reside in Australia.

Apply for an educational program in any field of interest for a specified time.

Enjoy the wonderful sites of the country as a tourist.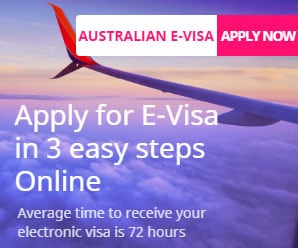 Business e-Visa to Australia
The applicant should choose a business e-Visa for such purposes:
Contract negotiations for employment

New market opportunities and business partnership

Attending conferences, educational forums, trade fairs 
How long does the process take and how to apply?
The application process is very straightforward and has only a few simple steps that can be fulfilled within several minutes:
You need to fill out a short inquiry form providing some details about yourself. 

Upload the documents requested.

Make the payment. You can cover the fees via any online payment method offered on our website.

Wait for a reply. Once the visa is processed, it will be sent to your email address as a PDF document. 
The processing may take some time, but filling out the application form, attaching documents, and payment doesn't take long. You can apply at any time, as there is no need to stick to working hours. 
The place is also up to you – you can apply from any site with internet access. For example, it may be your home, working place, café, or even gym. As you can see, you don't have to change any of your plans because of visas!
APPLY ONLINE FOR AN ETA VISA
CLICK TO APPLY FOR AN AUSTRALIAN VISA ONLINE
The validity and the permitted stay
The Australia eVisitor is valid for one year (12 months) from the date of issue. During this period, the visa holders can enter Australia unlimited times. However, each visit cannot be longer than 3 months (90 days).
If you want to come back to Australia and your eTA is still valid, you should leave Australia for 3 days (or more). After that, you can return for another 3 months.
Note that Australian eTA is digitally connected to your passport. That means that if you lose it, or passport data expires or changes, the visa becomes invalid as well.
What are the requirements to apply for an Australian eTA visa?
You are able to apply for an eVisa to Australia if you have:
tourist or business purposes of travel

an eligible country passport valid for at least 6 months from the arrival date

an active email account (for visa processing purposes)

an ability to pay online
The process of the online visa application to Australia is also a simple and quick method of reducing queues in the Australian visa application departments of the Australian government.