If you are Hong Kong citizen planning to visit to Australia, this article discussing Australian visa for Hong Kong citizens will be of great help. Read up.
Hong Kong citizens planning to get an Australian visa – The first thing that you must possess is a SAR passport for Hong Kong. Once you have to it, you can apply for an Australian Visa. All Hong Kong citizens intending to visit Australia must obtain Electronic Travel Authorities (ETA).
ETA – An ETA involves an authority (giving certain powers or eligibility) to get admission into the territories of Australia. Hong Kong nationals can apply for ETA through the Internet online.
Content:
You can also get it done for you by an authorized airline or travel agent when you buy the ticket. Airlines or Travel agent collect an amount as a handling charge done for the ETA. For additional information, you can visit the official website for ETA.

Eligibility criteria for ETA
To be eligible for an ETA, a Hong Kong national should possess a SAR passport for Hong Kong. Having the passport, you're eligible to apply through the Internet. You may visit the official website to get additional information.
Individuals holding passports of British National Overseas can apply for ETA through travel agents and airlines in Hong Kong. They are not eligible to apply online.
Individuals having passports of Taiwan (excluding passports' Taiwanese Compatriot), Taiwan residents have to apply for ETA – Australian visa for Hong Kong citizens via one of the authorized Taiwanese travel agents. Additional information can be had at the official website.
Taiwan citizens living in Hong Kong or Macau can apply for ETA via the Australian Visa Application Centre (AVAC). To obtain additional details visit the relevant official webpage for Taiwanese nationals.
Individual holding Macau SAR passports, passports of the People's Republic of China, Documents of Identity in Hong Kong are not eligible to apply.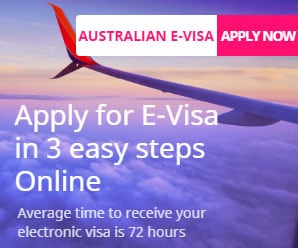 What if I'm not eligible?
If you're not eligible for ETA and reside in Macau, Hong Kong or Taiwan, you are required to submit an application for a Tourist Visitor Visa or Business Visitor Visa with the office of Australian Consulate-General in Hong Kong.
What if my Internet ETA application is not successful?
Most ETA applications are decided in a moment. In a few cases, some additional criteria need to be fulfilled. In case you cannot get your ETA online immediately, you will get a message check back in 12 hours. If your ETA applications not addressed even after 12 years, you will get a message saying refer to Embassy.
In such a case, you should write an email to etaaustraliaonline.com attaching the following documents.
The biodata age of your passport
Hong Kong Id card (if applicable)
Your contact details ( email id and telephone number)
The reference number that you got when you applied for Internet ETA and confirmation thereof that you were successful.

By most accounts, the office of Australian Consulate-General in Hong Kong will help you out in getting the ETA approved within two working days. Make sure you furnish accurate data.