The Australian government believes applying for a visa should be fast, convenient, and effortless. In order to facilitate the registration process, they have introduced eTA – an electronic travel authorization, which may be obtained online.
The electronic visa for the citizens of the European Union is known as the eVisitor Visa or the Subclass 651 Visa. However, many prefer to simply call it eTA.
Every French citizen needs an entry permit to cross the Australian border. They are allowed to travel to Australia for various reasons, including visiting family, meeting friends, participating in business conferences, or taking part in cultural events. The permit is generally issued for tourism and business purposes.
The eTA electronic visa guarantees all eligible French citizens multiple entries to Australia for a whole year, each visit lasting up to 90 days. Unfortunately, it is not possible to extend the Australian eTA validity period – if you wish to spend more time in the country, you should start a new application process.
There are a few requirements that you should meet before applying for the ETA visa.

Content:
eTA Requirements
APPLY ONLINE FOR AN ETA VISA
CLICK TO APPLY FOR AUSTRALIAN VISA ONLINE
Since the application process for the Australian eTA is conducted online, you must check if your internet connection is stable and whether your selected electronic device (a laptop, a tablet, or a smartphone) is working properly.
Nevertheless, registration does not require many documents. Before starting the application for the Australian electronic visa, you must make sure that you have the following:
Valid Passport – The document should be valid for at least 6 months from the date of your arrival in Australia. It is also required that there are two blank pages for the mandatory entry stamps.
Online Payment Method – To be given the eTA electronic visa, you must pay the mandatory registration fee. The accepted methods of payment include credit cards, debit cards, and PayPal.
Personal Mail Address – When your Australian eTA application is accepted, you will receive the approval notice in your inbox.
Health Check Certificate – To be granted entry to Australia, you must prove that you are healthy and that there is no risk of spreading tuberculosis in Australia.
Clean Criminal Record – Immigration officers may conduct a background check to prevent any suspicious travelers from entering Australia. You should be free of serious offenses for at least 12 months.
There is no need to print out the eTA approval when traveling to Australia since your electronic visa is linked to your passport. On arrival at the selected port of entry, the Australian immigration officers will only ask you to present your travel document.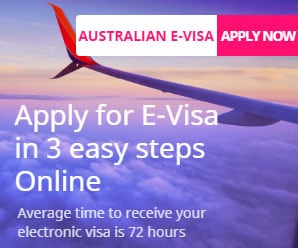 eTA Application Form
The Australian officials made it easy and convenient for French citizens to apply for an eTA travel permit. The registration for an electronic visa may be divided into a few steps.
Fill in the application form. You will be asked to provide data concerning your personal information, such as your first and last name, gender, date and place of birth, country of origin, and travel purpose. You will also need to write down the details of your passport. Remember to answer truthfully to all the questions.
Check the form for any spelling errors. If there are some discrepancies, you may be denied entry to Australia.
Pay the processing fee for the eTA visa registration. To finalize the payment, you may use your debit card, credit card, or PayPal.
Wait for the approval of your electronic visa. When authorized, your eTA will be sent to your e-mail address.
APPLY ONLINE FOR AN ETA VISA
CLICK TO APPLY FOR AUSTRALIAN VISA ONLINE
Processing Fee and Waiting Time
In general, the eTA electronic visa is free-of-charge, but you must pay a compulsory processing fee for the service. The price is 49 EUR.
The standard visa processing time is around a few days, however, it may take a little longer depending on the number of inquiries that must be issued. The waiting time is also affected by the internal eTA processing conducted by the officers on the Australian side.
Benefits of Traveling to Australia
Australia is a country offering plenty of attractions for tourists from all around the world. You are given a chance to relax while being surrounded by beautiful nature, enjoy swimming in the crystal-clear waters of the ocean, taste the delicious cuisine prepared by the locals, and get to know the rich Australian culture.